Solve your forklift needs with our range of new and used forklifts for sale at United Equipment in Melbourne, Victoria. Available through our local Sunshine West branch, our forklifts are delivered and ready to go within 24 hours. With United, you'll find a comprehensive range of forklifts suiting your unique lifting needs and your budget. In addition to this, our experienced staff will be at hand to help you find the best solutions no matter what your business size.
With the largest range of forklifts in Melbourne combined with our thorough expertise, we're known as the top local supplier of high-quality brands such as Cat Lift Trucks and Konecranes. These are all available either new or used, and for sale or hire, with high demand in industrial suburbs such as Altona, Ballarat, Footscray, Dandenong, Clayton, Craigieburn and Oakleigh.
New Forklifts for Sale in Victoria
We offer an outstanding range of forklifts and forklift trucks for sale in Melbourne, Victoria. This includes a lifting capacity of 1-65 tonnes from a range of picker forklifts, powered pallet trucks and pallet jacks, through to walker stacker forklifts, order pickers, counterbalanced forklifts and container handlers. So, whether your access requirements are lifting, stacking, or moving, you will find a forklift to suit here. Our range is powered by LPG, petrol, diesel, and battery electrics depending on the capacity of the forklift and our premium brands include Cat Lift Trucks and Konecranes.
Buy New & Used Forklifts Melbourne
As well as brand new forklifts, we also have a wide selection of used forklifts for sale in Melbourne, Victoria. Used equipment is a great cost-effective option for acquiring the necessary forklift to complete your task. We offer LPG, diesel, and electric forklifts for sale, as well as forklift trucks, reach stackers, container lift trucks, and warehouse forklift trucks. All of our used equipment has been serviced and well cared for and is ready for delivery to your doorstep within 24 hours. As we are locally based, we also provide fast ongoing support and advice should you need it. 
Forklift Hire
Many prefer the flexibility of forklift hire. Renting provides you with the flexibility to change equipment as necessary, keep up with lifting needs, and can be a very cost-effective option. With United, you will be able to hire forklifts per day, per project, or per year – it's up to you.
Benefits of Forklift Hire
We have the largest choice of modern forklifts for hire in Melbourne, ranging from 1-65 tonne lift capacity. This includes electric forklifts, LPG and diesel forklifts, and heavy-duty container lift trucks and reach stackers. There's a specialised forklift available to suit every job, no matter what the task.
Hire a forklift for as long as you need with the option to upgrade or change as your needs or project changes. Do you just need a container forklift to empty a new shipment for the day? No problem!
Fast Delivery to Your Business
Once you've decided on the forklift you need, we'll arrange delivery to your door within 24 hours. Need it that same day? No problem, we'll do our best to have it to you the same day within the Melbourne metro area. 
Maintenance and Backup Support
The burden of servicing is taken off your hands. All our forklifts are well maintained to ensure they are running at optimal performance.
Choosing to hire a forklift over purchasing means there will be no up-front capital cost to your business. What's even better is that payments are 100% tax deductible.
Forklift Service and Maintenance
Keeping your forklift running in peak performance is necessary to minimise breakdowns, costs and downtime to your business. Our Melbourne branch has a dedicated team of factory-trained technicians that provide professional forklift service and repairs. Whether it's a Cat forklift or any other brand, we service and repair all makes and models. We are also very flexible to meet the needs of your business. Should you require a routine maintenance inspection, safety audit or forklift repair, we'll organise a convenient time to suit your needs. No matter where your business is located, we offer competitive forklift servicing across both Melbourne metro and regional areas.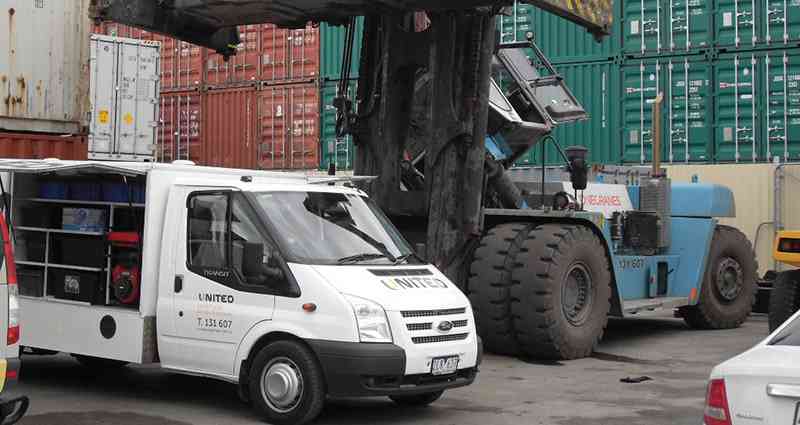 Forklift Repairs
Our Melbourne branch has state-of-the-art workshop facilities. This includes overhead cranes, industrial spray booths, specialty tooling and diagnostic equipment and factory trained technicians. By operating out of a world class facility, we're able to perform all types of specialised forklift repairs in house. From general repairs, right through to major engine overhauls and forklift resprays.
Emergency Breakdown and Support
Our responsive mobile service vehicles are on call 24/7 should your forklift breakdown anywhere in the Melbourne metro area. We'll attend your business as quickly as possible to fix your forklift and minimise downtime to your business.
Spare Parts Store
If you require forklift parts for repairs or customisations, our dedicated parts store has you covered. We carry the largest range of genuine parts for our main brands, as well as many other forklift brands and models. Our expert staff can also provide advice to ensure you get the right part at the best possible price.
Contact Us Today
For more information on our extensive range of forklifts for sale, contact our Melbourne branch today. We're committed to providing unmatched solutions for projects right across Australia!