United understand that having your forklift and access equipment running efficiently is critical to the success of your business. To ensure our customers equipment operates at peak performance day after day, United have established one of the most sophisticated service and repair networks in the country. From a national network of state of the art workshop facilities and spare parts stores, to a dedicated team of mobile service vehicles and qualified technicians, all combining to successfully support our customers and ensure their businesses and equipment running smoothly.
Our Specialised Services Include:
Safety and Preventative Maintenance Plans
United can offer tailored maintenance plans to suit your forklift and access equipment requirements. Our plans ensure your business addresses the maintenance recommendations set by original equipment manufacturers for optimal performance, productivity, safety, compliance and lower life costs. For your peace of mind we can also take care of any service recall and bulletins, which are only available to dealers.
Our friendly customer service representatives can visit your business and offer an obligation free quote. They can assess your equipment and discuss a safety and preventative maintenance plan and schedule that is best suited for your individual business needs.
Benefits of Preventative Maintenance Plans
Australian Standards compliance
Operator safety
Protection from litigation and hefty penalties up to $3 million dollars (forklifts)
Asset longevity and reliability
Warranty protection
Minor and Major Repairs
United's team of technicians repair all makes and models of forklifts and access equipment. From minor repairs to major engine overhauls, we can assist to get your equipment back up and running to minimise disruption to your business.
24/7 Emergency Breakdown Support
When unexpected breakdowns occur be confident in the knowledge that our national fleet of responsive service vehicles are only a phone call away. We can assist 24/7 to get your forklifts and access equipment moving again to minimise downtime.
State of the Art Workshops
Our workshop facilities located at each major branch location are fitted with the most state of the art equipment and technology. These facilities are supported by highly qualified and factory trained technicians who ensure your equipment is serviced, maintained and repaired with the highest quality standards.
These workshops are well equipped with the necessary equipment and tools to service and repair all makes and models of forklifts and access equipment. Our factory trained technicians are also well experienced in servicing and repairing the most popular brands of equipment. This helps ensure we meet the Original Equipment Manufacturer (OEM) specifications and recommendations for your forklifts and access equipment.
Our spare parts stores also provide spare part for all makes and models of forklift and access equipment to support our workshops, road service technicians and our customers. This helps ensure that no matter what equipment we service or repair work we provide, our technicians have the right part available to get the job done.
Spray Painting Booths
United's state of the art workshops are also fitted with industrial grade and fully approved spray painting booths large enough to fit 45 tonne container handlers. Operated by professional and experienced spray painters, we can take your scratched and damaged forklift or access equipment and restore it back to its original brand new state. Spray painting your equipment to match your corporate colour scheme is also available, just let us know your company colours and our spray painters will take care of the rest.
Equipment presentation is an important step in maintaining high service standards and ensuring operator participation in equipment care.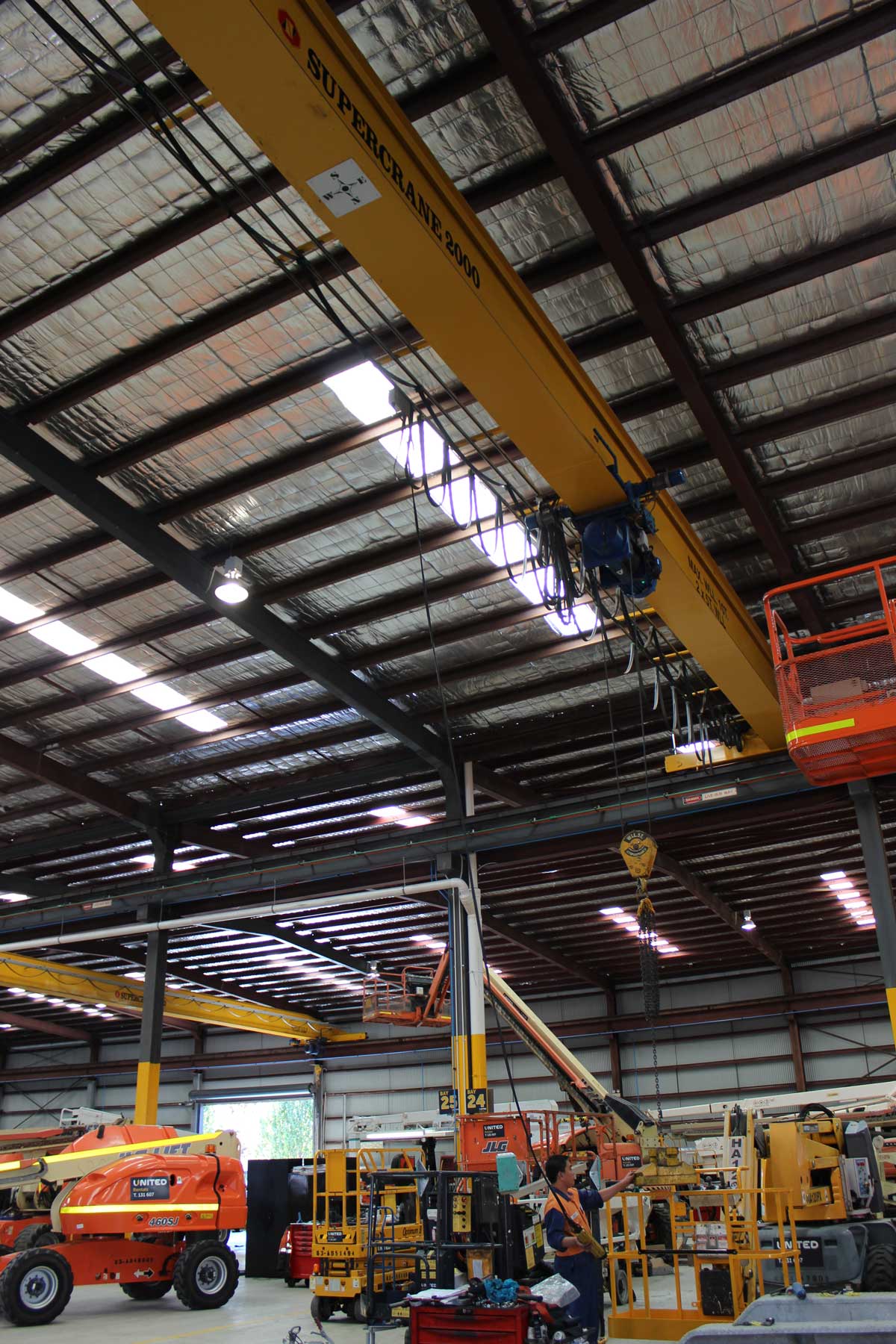 Super Cranes
As you would expect from the materials handing experts, lifting heavy equipment is part of the service. Our specialised workshops have access to man up equipment, heavy duty fork lifters, and all directional overhead cranes. Not only does this reduce time but ensures safety is a key consideration for all our workshop activities and staff. Overhauling heavy forklift engines is no problem with these cranes.
Specialty Tools & Diagnostic Equipment
Our technicians are equipped with special tooling to ensure all service and repair works are completed correctly and efficiently, no matter what the make or model of your forklift and access equipment. The OEM also provides us access to their speciality tooling to ensure difficult repairs and disassembly's are completed correctly the first time round. Speciality tools help reduce costs by eliminating irreparable damage caused by using the wrong tool, as well as reducing the amount of man hours required to complete repairs.
Our technicians also carry all the software and diagnostic equipment required to meet the needs of today's highly sophisticated control systems. This coupled with dyno testing for transmissions, hydraulic testing, work benches with welding and fabrication equipment means basic services to comprehensive rebuilds can be accommodated in our state of the art workshop facilities.
Responsive Mobile Service Vehicles
To complement our support network, United currently has a dedicated fleet of over 90 responsive mobile service vehicles operating Australia-wide on call 24 hours 7 days a week for your businesses peace of mind. These self-contained vehicles allow us to service and repair all forklift and access equipment in the most remote locations.
Our support vehicles consist of both service vans, which offer servicing and repair services on smaller tonne forklifts and access equipment, whilst our service trucks have been designed to service and repair the biggest equipment in the market including 10-65 tonne heavy duty forklifts, reach stackers and container handlers. Both service vehicles are fitted with the latest technology and specialised equipment including;
Advanced GPS communication technology allowing us to respond quickly to breakdowns and minimise downtime.
Fully self-contained with more than ten thousand dollars' worth of spare parts and consumables.
Equipped with a variety of specialised tools and equipment on board including generators, welders, high volume air compressors and auto lube systems.