Operator Comfort
Spacious Cabin
The OPTIMA cabin provides one of the most spacious cabins on the market. Every detail has been carefully designed to maximise comfort and safety for the operator. The ergonomically designed dash provides easy reach for the operator and improves driver posture. Clear and curved windows also provide outstanding visibility in all directions.
Get a 360-degree view in the OPTIMA cabin.
Ergonomic Controls
The control buttons are conveniently located on the right-hand side of the dashboard for easy reach. Different shapes and sizes also make it easy for the operator to press individual buttons for greater comfort.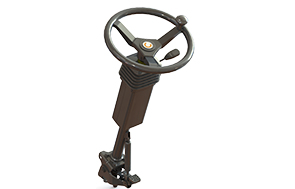 Adjustable Steering Column
Operators can quickly and easily adjust the steering column to suit their optimal driving posture. This includes adjusting the angle of both the steering wheel and steering column, as well as the overall height position for maximum comfort.
Suspension Seating
A mechanical full suspension seat ensures operators a smooth and comfortable ride. Adjustable settings allow operators to adjust the weight, height and lumbar support to suit their personal comfort settings. Furthermore, other seating options can be installed for even higher levels of comfort and support.
Pedal Design
A spacious and comfortable pedal design improves operator performance. The pedal includes one standing accelerator pedal two standing brake pedals and an electric declutch as standard.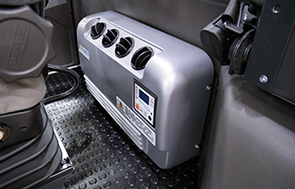 HVAC System
The forklifts cabin includes a powerful heating, ventilation and air conditioning system (HVAC) for maximum comfort. No matter what the temperature is outside, operators are guaranteed to enjoy a comfortable driving experience all year round.
Productivity & Performance
Monitoring and Diagnostics
A modern 7-inch colour touch screen provides full monitoring of all the forklifts vital components and performance. This includes ECO-drive and fuel management, electronic overload and safety system, productivity counter management and much more. Furthermore, programmable settings allow operators to customise functions to suit their needs. CanBus technology also helps increase engine and transmission reliability as well as hydraulics and levers.
Heavy Duty Box-type Chassis
Konecranes box-type chassis is a leading design offering one of the strongest chassis on the market. This intelligent and durable frame improves helps to strengthen both the lift mast and tilt cylinder. This provides higher lifting capacity without reductions at high lift heights. This is the foundation of Konecranes long-lasting high performance.
Clear View Masts
Well-designed masts with the lift chains and hydraulic hoses positioned on the outside of the mast beams. This clears the centre providing good visibility for the operator.
Quick Change Fork System
Konecranes fork shaft system allows for the quick changing of forks, coil rams and other attachments. Available through both hook or pin type operators can quickly remove or install attachments.
Watch the Fork System System in action.
Lower Cost
Powerful Fuel-Efficient Engine
Konecranes certified low emission engines provide extra high torque at low revs, reduced fuel consumption and low noise levels. This means they are better for the environment and help to reduce overall running costs.
Load Sensing Hydraulics
Load sensing hydraulics with variable piston pumps help achieve an optimum balance between the engine power and hydraulic demand. This system effectively reduces wear on the engine, gearbox and hydraulics, as well as reduces fuel consumption and heat on the oil.
Hydro-mechanical Variable Transmission - HVT (Optional)
A combination of high performing hydrostatic and mechanical components that provides a better driving experience. The HVT delivers efficient performance, clutch-less maneuvering and requires less overall maintenance.
Safety
Fire Alarm and Suppression System
To increase safety for the operator, Konecranes have installed an effective fire alarm and suppression in all their lift trucks. This system which can be discharged manually by the operator either inside or outside the forklift, or automatically through engine compartment sensors.
EMC Operator Warnings
The MD4 display screen increases safety by providing warning and error alerts to the operator. Other optional functions like speed limiter and electronic weight scales can be installed to increase safety.
Slip Free Steps
Accessing the cabin in any weather condition is safe thanks to the textured anti-slip steps. Optional step lighting and handlebars can be installed to further increase safety especially when operating the forklift at night.
Camera Systems (Optional)
Multiple cameras can be positioned around the forklift to improve overall visibility for the operator, especially around blind spots. A colour display within the cabin allows operators to view multiple camera feeds at once and cycle between them.
Safety Lighting (Optional)
Lights can be installed on the forklift to improve pedestrian safety in workplaces. Pedestrian lights can be used to create visual exclusion zones for pedestrians. Furthermore, blue spot warning lights can warn pedestrians that a forklift is approaching, especially around corners.
Pedestrian Detection Systems (Optional)
Blaxtair Presence Detection System is an innovative safety solution designed to protect pedestrians in the workplace. The system acts as an effective traffic management solution which helps to minimise workplace incidents involving pedestrians and mobile equipment, like forklifts. Blaxtair utilises an intelligent 3D stereo camera with artificial intelligence, that can detect multiple pedestrians from the surroundings in real time and effectively warns the operator. When retrofitted to existing forklifts, Blaxtair can immediately improve safety in any workplace.
Watch the Blaxtair video.
Servicing & Maintenance

Maintenance Free Brakes
The forklifts brakes with continuous oil cooling provides full braking power in any situation. This cooling system ensures less maintenance is required than standard brakes which further reduces costs.
Extended Service Intervals
To reduce lifetime running and maintenance costs, Konecranes have effectively extended the service interval on their forklifts including the engine by 500 hours, the gearbox by 1000 hours and the hydraulics by 4000 hours. The addition of Konecranes HLL ultra-fine filter system (optional) also extends the hydraulic oil change interval from 4000 up to 12000 hours, which effectively uses up to 80% less hydraulic oil than a conventional hydraulic system.
Fleet Maintenance

Truconnect
Truconnect® enables you to remotely monitor and track the real usage of your lift trucks including hours, fuel consumption, travelling distance and speed, safety alerts and much more. This is a great tool for scheduling forklift maintenance actions and consequently improving the fleet's uptime. Learn more about the Truconnect fleet management solution.