Comet Officine is an Italian manufacturer of aerial work platforms which was founded back in 1960. The company specialises in both trailer mounted boom lifts and vehicle mounted aerial work platforms . Since its inception, Comet has continually improved its products while maintaining is unique characteristics of comfort and reliability in use, thanks to the rigid structure, high accuracy in movements and great resistance to heavy work cycles.
Comet aerial platforms include two main product ranges including;
Trailer Mounted Boom Lifts – X-Trailer
Comet X-Trailers are one of Australia's most compact trailer mounted boom lifts with a length of just 3.10 metres.
Available in both 12 and 14 metre working heights, the compact design improves accessibility and transportation, whilst the unique structure and frame maintains an excellent working height and outreach. The hydraulic controls are comfortable to operate and provide highly accurate movements. Optional features like the self-drive system make moving the trailer around site both quick and safe.
The Comet X-Trailer's compact length makes them much smaller than the most common competitor trailer in the market. This ensures they are easy to hook on and transport even with a mid-sized sedan. The compact size also allows the Comet X-Trailer to be parked in one car bay if needed making them very convenient.
Comet X-Trailer Video
Vehicle Mounted Aerial Platforms
Comet vehicle mounted aerial platforms include both telescopic and articulating booms mounted to a range of vehicles including light and heavy-duty trucks, vans, utes and more. These specialised aerial platforms provide the versatility of being transported and used anywhere the vehicle can access.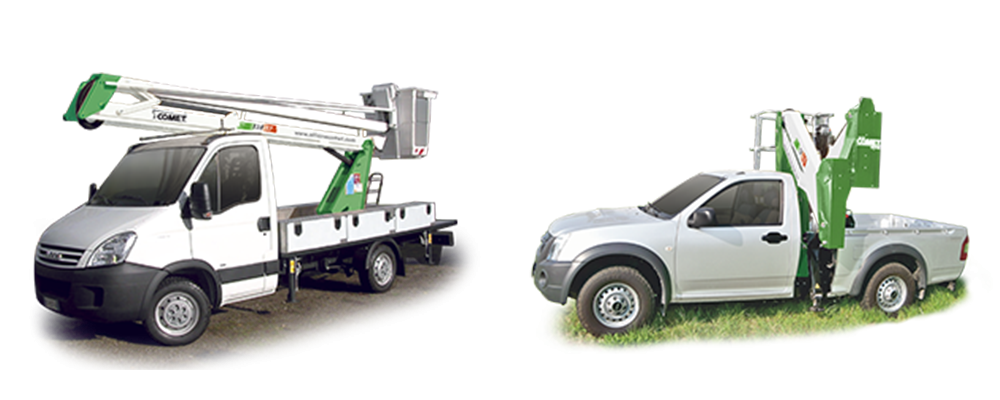 United are proud to be the national dealer of Comet access equipment in Australia. With our strong relationship with the manufacturer, United can ensure the optimal access solution that's right for your business coupled with the best after sales support.